Kirsty and Orlagh, the project founders, will post project news here, and you'll be able to read creative and critical responses to our schools workshops from the young people who have taken part in them.
---
In 2018, Orlagh McCabe and Kirsty Bunting, co-founders of LYE Crewe, were delighted to collaborate with Dr Shelley Piasecka in staging a pop-up protest in collaboration with MMU RAH!
Shelley is the Programme Leader for the MRes in Arts and Media and Senior Postgraduate Research Tutor for the School of Arts and Media at the University of Chester. Shelley is also a theatre director and writer, and is co-founder of the prestigious Piasecki & Piasecka Theatre Company.
Shelley adapted the protest letters sent by Ada Nield Chew to the Crewe Chronicle in 1894 complaining about the unfair working conditions for Crewe factory girls and demanding change. Shelley directed and staged the Ada Nield Chew, Radical Suffragist: Pop-up Protest performance at Geoffrey Manton Atrium, Manchester Metropolitan University on 6th February 2018 to mark the centenary of the legal assent of the Representation of the People Act. Actress Jess Harris took the role of Ada Nield. Since then, Shelley has taken the show to the Cornerstone Festival, Liverpool and the People's History Museum. You can see snippets from the event here.
---
Photographs from 'The Women and Girls of Crewe, the North of England and Beyond, 1830 to 2016' Conference which took place at MMU Cheshire on 7 December 2016. Over 150 guests and community partners attended to hear papers on a range of topics including: Dr Kate Cook, Senior Lecturer in Law, Manchester Law School, Leader of the Sylvia Pankhurst Gender Research Centre on 'Living up to Sylvia Pankhurst: Feminism, Activism and Academia'; Dr Alison Ronan on 'The Women's Peace Crusade in the North of England'; and Dr Jill Liddington on 'A week full of crowded hours of glorious life: Ada Nield Chew, Crewe Factory Girl and Suffrage Organiser'. To see the full schedule of talks, workshops and film screenings from the day click here: Conference Schedule
---
7 June 2016 "Dear Ada…"
Feminist Letter Writing Project features letter to Ada Nield Chew
Dear Friend is a letter-writing project celebrating women in public life and the struggles for women's liberation. The project organisers invite you to, "write a letter to support a woman who inspired you or who made a difference in an area of equality: such as the fight against slavery; racial discrimination; or the ongoing fight for peace. We'll digitise and transcribe it, put it on the website, and help raise the profile of whoever you think we need to celebrate".
This month Dear Friend launched its new website and so far it has featured letters to: Ellen Wilkinson, leader of the Jarrow march and UK Education Minister, 1945-47; Phyllis Monk, teacher and founder of Chorleywood School; Clara Zetkin, Marxist theorist, activist, women's rights advocate; Jill Phipps, British animal rights activist; Nina Simone, singer-songwriter, pianist, African-American civil rights activist.
Today it featured a letter to Ada Nield Chew, the inspiration behind the Local Youth Engagement Project, written by project co-founder Kirsty Bunting. You can read it here: http://dearfriend.org.uk/letters/2016-03-09-K-Bunting-to-Ada-Nield-Chew/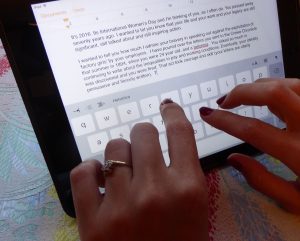 Find out how to write your own letter here: http://dearfriend.org.uk/ or follow Dear Friend on Twitter @dearfriendmcr
---
Announcing: Conference Keynote and Special Guests:

'The Women and Girls of Crewe, the North of England and Beyond, 1830 to 2016'
7 December 2016 Manchester Metropolitan University, Cheshire Campus
This conference, supported by Crewe Town Council, aims to reassess and celebrate the activities, histories, writings and cultural and political importance of the girls and women of Crewe, the North of England and the UK generally in the years between 1830 and 2016.
We are delighted to announce that our keynote speaker will be Dr Kate Cook, Senior Lecturer in Law, Manchester Law School, Leader of the Sylvia Pankhurst Gender Research Centre.
We also take great pleasure in announcing our special guest, Mr Liam Hannan, University of Manchester. Liam will present his research on martial arts and Suffragette self defence as well as offering a 'Suffrajitsu' demonstration.
You can find out more about Liam's research here: http://www.alc.manchester.ac.uk/subjects/history/postgraduateresearch/phd-student-profiles/liam-hannan/
The conference will be a community event, bringing together academic speakers and local specialists, and will be open to the public (registration necessary for all delegates). After a day of papers and discussion the conference will end with an evening wine reception, film showing and an exhibition on 'Ada Nield Chew, Crewe Factory Girl'. You can read the Call for Presenters here: http://www.localyouthengagement.org/uncategorized/call-for-papers/
Deadline for proposals: 7 August 2016
Registration will open in September 2016
---
26th and 27th April 2016
We have come to the end of another two days of school workshops, this time at the very warm and welcoming Alsager School. We met 94 school children aged 12 and 13 and ran four two-hour workshops. These four workshops also offered paid employment to four undergraduate ambassadors and two postgraduates (through MMU Cheshire's Widening Participation and Jobs4Students).
So what have we been doing, and what can you expect from one of our workshops?
We begin by talking about the inspiration for the project, Ada Nield Chew, and her connections to Crewe and the local area. Students watch a film of MMU Contemporary Arts student Emmie Alderson reimagining a 24 year old Ada Nield reading her first protest letter to the Crewe Chronicle in 1894. We talk with students about Ada's progressive attitudes to workers' rights and gender equality and we briefly document her life after she left Compton Brothers factory. We learn about Ada's work with the NUWSS and examine the differences between the suffragists' peaceful protest methods and the suffragettes' more militant tactics. Having started thinking about women's rights in the 1890s-1910s everyone is ready to begin the discussion section of the workshop. Students are encouraged to share their views on the status of women and girls in and around Crewe today and we all reflect on how things have changed since women gained equal voting rights with men in 1928. We use a range of classroom materials (including KETSO packs, sticky notes, large format ideas boards, etc.) to draw out a discussion of the ways in which young people today can participate in civic and political life. Each session ends with students having a short time to create artistic responses to any aspect of the workshop that has captured their imaginations, often writing songs or letters, making banners and drawing pictures. A great deal of pride and energy goes into this part of the workshop and you can see some of the wonderful results from Alsager School children below. Finally, all participants are invited to take part in a ballot, they are asked one question: 'Do you think that you will vote when you are old enough?' Students vote using coloured leaves marked, 'yes', 'no' or 'don't know'. It is our intention to encourage young people to think about their own identities as political and social agents, and along the way they learn about local history and the power of protest, all inspired by one local hero, Ada Nield Chew.
---
'Messages to Ada' for International Women's Day 2016 event in Crewe.
Crewe Library hosted a women's day event on Thursday 10th March 2016 organised by Crewe town Council and Mother Well Cheshire. There was a great turnout for our talk on Ada Nield Chew. We took the exhibition boards with us, covered in art work and writings by students from the partner schools we've visited since November (Shavington Academy, Ruskin High, Sir William Stanier). We invited the audience to write a 'message to Ada': examples included, 'Ada you are an amazing woman and should be proud of what you did', and 'we will keep up your good work'.
---
March 2016 – LYE Project and International Women's Week
March has been a busy month so far. It began in Manchester at the People's History Museum who hosted a Manchester Metropolitan University Event on Women in the First World War (organised by Drs Emma Liggins and Liz Nolan) for Wonder Women 2016 Festival. We (LYE Project's Orlagh McCabe and Kirsty Bunting) packed up the travelling exhibition boards (covered in Crewe school children's creative responses to the Ada Nield Chew workshops) and headed North. We met many Wonder Women working in related disciplines and projects and we told delegates about Ada and her legacy. This is the event's poster: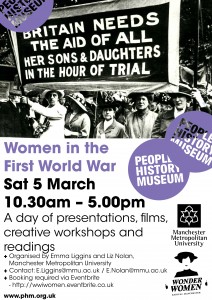 This event gave us the opportunity to talk about Ada Nield's own experiences of WWI during which time her affiliation to the NUWSS was strained by their support of the war effort at the expense of campaigning for the vote, prompting Ada to follow her pacifist convictions (she refused to take part in war work of any kind, instead joining the Women's International League for Peace and Freedom). Our paper focussed on her work to feed and protect the mothers and children left behind. Other papers included:
Sabine Grimshaw (University of Leeds/Imperial War Museum), 'Representation and Resistance: Anti-War women's writing in the Press'
Dr Emma Liggins (MMU), 'Odd how the War Changes us': Women Ambulance Drivers in war fiction and auto/biography'
Dr Alison Ronan, 'O Mothers of England! An examination of handbills from The Women's Peace Crusade, 1916-1918'
Dr Angela Smith (University of Portsmouth) The Impact of the First World War on the Campaign for Women's Suffrage
Actor and voice artist Ruth Sillers gave a reading from her CD War Girls, an anthology both well-known figures and ordinary women's diaries, letters and poetry .
Here are some photographs from the day including: scenes from the symposium; an ILP banner on display in the People's History museum galleries (Ada Nield Chew was a canvasser for the Independent Labour Party between 1896 and 1914); a cut-up poem for Ada; and Orlagh and Kirsty trying on the museum's hat collection!
A review of the day was also featured on the Man Met Uni Humanities Hallows pages. Read it here: https://communityhallows.wordpress.com/2016/03/09/manchester-met-celebrates-women-of-world-war-i/
---
27 January 2016: Sir William Stanier School, Crewe.
Today we spent the morning with the pupils and staff of Sir William Stanier School, Crewe. There was a lot of enthusiasm for Ada Nield Chew and the suffragists as this selection from some of the creative responses (posted below) to the workshop demonstrates. Thank you to everyone who took part and to the school for welcoming us!
Extracts from a wonderful creative writing response by Megan
It was noisy. All I saw was a massive crowd of people. I looked down and saw a coffin being carried. This was going too far. I'm pretty sure that Emily Davidson was lying in that coffin [ . . . ] She was only trying to get the vote for us, it's all my fault. I have been fighting for the vote all my life, I didn't want to get this violent. It's so unfair that women were treated so badly. We got sent to prison if we fought for the vote so, I had had enough. Me, Emily and a few other suffragettes did some bad things. We interrupted debates in the Houses of Parliament (that was Emily's idea), we smashed windows and set postboxes on fire. I stared at the orange flames. I was so shocked. I had never done anything like this before. Although, to be fair, the government should have given us the vote. I don't know who they think they are, treating us like we are weak. Well, we are not. I ran to the front of the crowd and shouted, "You see! Look what you have done!"
'Women have Rights too' by Abigail
Jobs men have to do
But women have rights too.
While men do their job
Women have to do the lot.
Women have rights too.
Men get to vote
But women don't.
Women have rights too.
(Abigail adds, 'Women have Rights too' is a tribute to the suffragettes and the suffragists).
'Votes for Women' by Theo
Women wanted the vote
to be equal
But not all were in the same boat
It did not sit well with all
The two suffrage groups
The suffragists and suffragettes
Jumped through many hoops
but they did not get
what they sought after for so long
The promised vote which would change the world
for all females, was that so wrong?
especially for those hard working girls
who worked as hard as men
but were denied the same pay
and married girls had to look after the den
they were denied their say
even when Emily Davidson jumped in front of a horse
and her eyes flashed [ . . . ]
and joined the many martyrs
But only after World War One
where women did the jobs of the men
was all their work done
They became one of them
Till all are one.
---
20 Jan 2016: The Local Youth Engagement Project at the 'Wonder Women Festival 2016'
We are delighted to hear we are taking a version of our Ada Nield Chew workshop and exhibition to 'Wonder Women Festival' on Saturday 5th March. We'll be appearing in the festival's 'Women in the First World War' event with other Manchester Metropolitan University colleagues, including event organiser Dr Emma Liggins. The event takes the form of a one-day symposium on women's contributions to WWI. Activities include presentations on women's writing, journalism and visual representations of women war workers, as well as creative workshops and a performance of wartime diaries and letters. A guided tour of the museum exhibitions will be followed by an evening reception. In partnership with Manchester Metropolitan University. Suitable for adults and young people over 11. People's History Museum, 5 March, 10.30am-4.30pm.
You can buy tickets for this event at: https://www.eventbrite.co.uk/e/women-in-the-first-world-war-tickets-19952592742
Find out more about the festival here: http://www.creativetourist.com/festivals-and-events/wonderwomen/
---
Local Youth Engagement Project Conference – Call For Papers
'The Women and Girls of Crewe, the North of England and Beyond, 1830 to 2016' (7 December 2016)
We are proud to announce our one day conference to be held at Manchester Metropolitan University, Cheshire on Wednesday 7th Dec 2016, 10am – 5pm
Proposals are invited for a one day interdisciplinary conference inspired by the life and works of the suffragist, author and labour rights campaigner Ada Nield Chew and the forthcoming centenary of the Representation of the People Act. The conference aims to reassess and celebrate the activities, histories, writings and cultural and political importance of the girls and women of Crewe, the North of England and the UK generally in the years between 1830 and 2016.
The conference is supported by Crewe Town Council and aims to be a community event, bringing together academic speakers and local specialists, and will be open to the public (registration necessary for all delegates). The conference will include an evening wine reception, film showing and an exhibition on 'Ada Nield Chew, Crewe Factory Girl'.
We are particularly keen to host representatives from women and girl's groups, projects and organisations from across the UK, whether community-based, social enterprises, or academic.
For the full call for papers please see: http://www.localyouthengagement.org/uncategorized/call-for-papers/
---
New Schools Workshops Booked for 2016
13 Jan 2016 – So far this year we have spring term workshops booked in which will reach over 250 school kids across two local schools. We have trained two wonderful Manchester Metropolitan University, Cheshire postgraduate ambassadors Emma Cox and Rebekah Donovan (pictured below) to help deliver workshops in 2016 and 2017. We look forward to working with them and our new partner schools!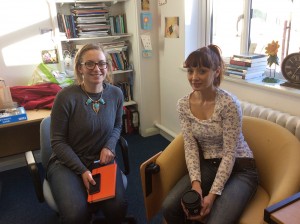 ---
Tweet us!
You can follow Local Youth Engagement Project on Twitter @lye_crewe
---
Funding News and Project Conference
November brought us the news that our application for a £900 community funding award from Crewe Town Council was successful. The money will be used to host a one day conference on 'The Women and Girls of Crewe, the North of England and Beyond, 1830-2016'. This will take place on 7th December 2016.
Watch this space for the CFP.
---
The first 'creative response' to a high school workshop
We received this creative response to our workshop at Shavington Academy from Brianna. This will also be featured in our pop up community exhibition. Well done Brianna!
WHAT DOES THE ABSENCE OF THE ABILITY TO VOTE LOOK LIKE?
By BRIANNA DE-LA-HAYE
Claws. That's the first thing you'd see. Of course, you'd notice the burning red orbs that light fires in your soul and the black cloak of indignation that grinds all ability to accept change to a halt, but the claws are what you see first.
The way they curl would send shivers up your spine. You know that they could pierce through your delicate flesh with a single swift movement and that one feature makes you gag. The fact that you would do anything to outrun them makes you feel feeble and helpless, knowing that it could all disappear with the blink of an eye, yet there it still stands; it forces you to face it, to take matters into your own hands and put lives on the line. Those claws alone control you.
It's an overwhelming darkness that surely cannot see the path of destruction it leaves behind, much like the misogynists and social blockades that refuse to give us – the strong, independent women of Britain – the right to vote. As mentioned before, the fires that ignite deep inside of you (all caused by its blazing eyes) stir your emotions, stir your beliefs and clouds you sense of judgement with a suffocating layer of smoke. The eyes change you.
It dons a black cloak, darker than an endless abyss, which swishes with every discriminating movement. You can almost feel the sharp gust wind that it leaves in its wake while you stand, frozen to the spot. The hood partially covers its face with a monstrous shadow, which conceals its true identity and gives it an almost cowardly way. You don't know anything about it, but what you do know is that it's predatorial. It will hunt you down and suffocate you under the fabric of dystopia, and you'll try and find a way out using strategies that other people seem inappropriate – but not you. The cloak twists your judgement.
The absence of the ability to vote very much resembles a demon. And nobody will allow us to escape hell.
---
27th November 2015
We are getting ready for our project launch event at Axis Arts Centre, Manchester Metropolitan University Cheshire, where we will celebrate these successes with our colleagues and community partners and reveal the conference 'call for participants'.
---
November 2-6th 2015: First Workshops and Children's Rights Day on campus at MMU Cheshire
November has been a busy launch month with the first of our school workshops taking place at two local secondary schools. We were delighted to meet receptive and interested young people and tell them about Ada Nield Chew.
In the same week, we took a version of the workshop to The Children's Society's 'Children's Rights Conference', hosted at Manchester Metropolitan University, Cheshire campus (6th Nov).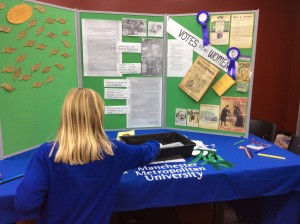 The children made suffrage/tte inspired rosettes with slogans or issues close to their hearts. Here are some of the results: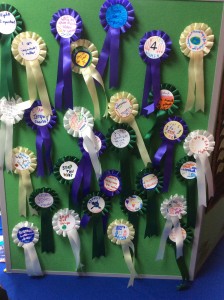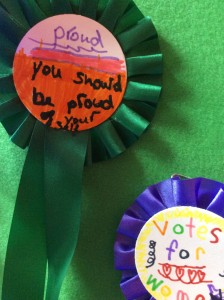 We also invited the children to take part in our ballot, asking, 'do you think you will use your right to vote when you are enough? This is the result: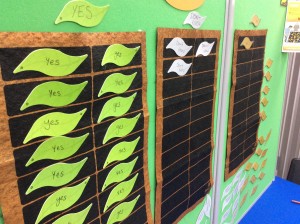 When we asked the same question in the high school workshops we had similar results. For example, in one group of 47 students, 41 said they believed they would vote in general elections when they were old enough, 4 were unsure, and 2 felt they wouldn't vote.
So far in November the project has worked with around 100 children between the ages of 8 and 14.
We have been inundated with requests for high school workshops and are getting more in the diary for 2016. If your school would like us to provide a workshop please email k.bunting@mmu.ac.uk or o.mccabe@mmu.ac.uk
---
October 2015: Preparations for the first school workshops
The Ketso pack arrived on 19th October ready for the first of our school workshops. MMU's 'jobs4students' recruitment service helped us hire three students to trial it for classroom use. Thank you Chelsea Furey, Emma Cox and Sana Zahra, pictured here with Orlagh McCabe and Kirsty Bunting and our Ketso 'felts'.